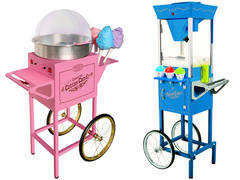 Snow Cone And Cotton Candy
Snow Cone & Cotton Candy Rentals
Snow Cone Machine Rentals

- This Snow Cone Machine shaves two pounds of ice in 90 seconds. There is a Storage compartment for extra supplies. This Unit includes 50 paper cones, 50 spoon straws, 2 syrup bottles and ice scoop. Use ice cubes from the freezer or bags of ice cubes from the store to shave and craft refreshing snow cones for any occasion. The handy storage compartment is ideal for storing syrups, extra cones and other supplies. Standing 53 inches tall, this snow cone cart is perfect for large groups, parties and events such as fundraisers. Add your choice of flavored syrup and enjoy the wonderful, cool taste of snow cones anytime in the convenience of your own home! Adventureland Bounce Houses brings the party rental to you.
Cotton Candy Rentals

- Unique flossing head allows the use of both cotton candy sugar and all types of hard and sugar-free hard candy. Convenient display tray holds six cones. Full size unit is over 4 feet tall. This unit includes 50 cotton candy cones. Main switch turns motor on and off while heat switch turns on the heating element. Simply plug in, turn on, place the recommended amount of flossing sugar or hard candies into the center receptacle, and start spinning colorful, tasty treats. This fanciful product is fun for the whole family and brings out the kid in everyone. Approved for commercial use, the cotton candy maker will spin sugar into sweet candy floss that collects on cones just like at the carnival! We deliver Concession Rentals to Elk Grove CA and Sacramento CA.