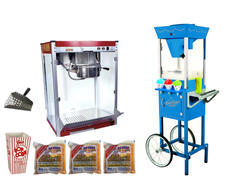 Pop Corn And Snow Cone
Pop Corn & Snow Cone Machine Rentals
Snow Cone Machine Rentals In Elk Grove CA And Sacramento CA

- This Snow Cone Machine shaves two pounds of ice in 90 seconds. There is a Storage compartment for extra supplies. This Unit includes 50 paper cones, 50 spoon straws, 2 syrup bottles and ice scoop. Use ice cubes from the freezer or bags of ice cubes from the store to shave and craft refreshing snow cones for any occasion. The handy storage compartment is ideal for storing syrups, extra cones and other supplies. Standing 53 inches tall, this snow cone cart is perfect for large groups, parties and events such as fundraisers. Add your choice of flavored syrup and enjoy the wonderful, cool taste of snow cones anytime in the convenience of your own home!
Pop Corn Machine Rentals In Elk Grove CA And Sacramento CA

- Pop dozens of delicious popcorn servings for your hungry guests with the Paragon commercial 8 oz. "theater pop" series popcorn machine! This popcorn machine is capable of producing 147 one ounce servings per hour for maximum output, and its gas spring assisted kettle makes it easy to unload popcorn when it's done cooking. Its four-switch operation lets you effortlessly set this popcorn popper up, and the kettle "ready" lights let you know when you can add ingredients for cooking. And thanks to its aerated warming deck, this popcorn machine will keep your food warm while catching kernels and smaller bits to promote easy cleaning. Adventureland Bounce Houses delivers concession machines to Sacramento CA and surrounding cities.