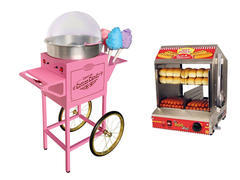 Cotton Candy And Hot Dog Steamer
Hot Dog Steamer & Cotton Candy Machine Rentals
Hot Dog Steamer Rentals In Elk Grove CA

- Heavy-duty 20 gauge stainless steel construction makes The Dog Hut the most durable steamer and it accommodates up to 200 hot dogs and 42 buns. Removable product trays and sliding doors allow for easy access to hotdogs and buns and makes for simple easy clean up. The proprietary heating system featuring heavy-duty submersible stainless steel element and automatic shutoff feature when water gets below a certain level.
Cotton Candy Machine Rentals In Elk Grove CA

- Unique flossing head allows the use of both cotton candy sugar and all types of hard and sugar-free hard candy. Convenient display tray holds six cones. Full size unit is over 4 feet tall. This unit includes 50 cotton candy cones. Main switch turns motor on and off while heat switch turns on the heating element. Simply plug in, turn on, place the recommended amount of flossing sugar or hard candies into the center receptacle, and start spinning colorful, tasty treats. This fanciful product is fun for the whole family and brings out the kid in everyone. Approved for commercial use, the cotton candy maker will spin sugar into sweet candy floss that collects on cones just like at the carnival! When you need it, Adventureland bounce Houses of Elk Grove CA can deliver it!